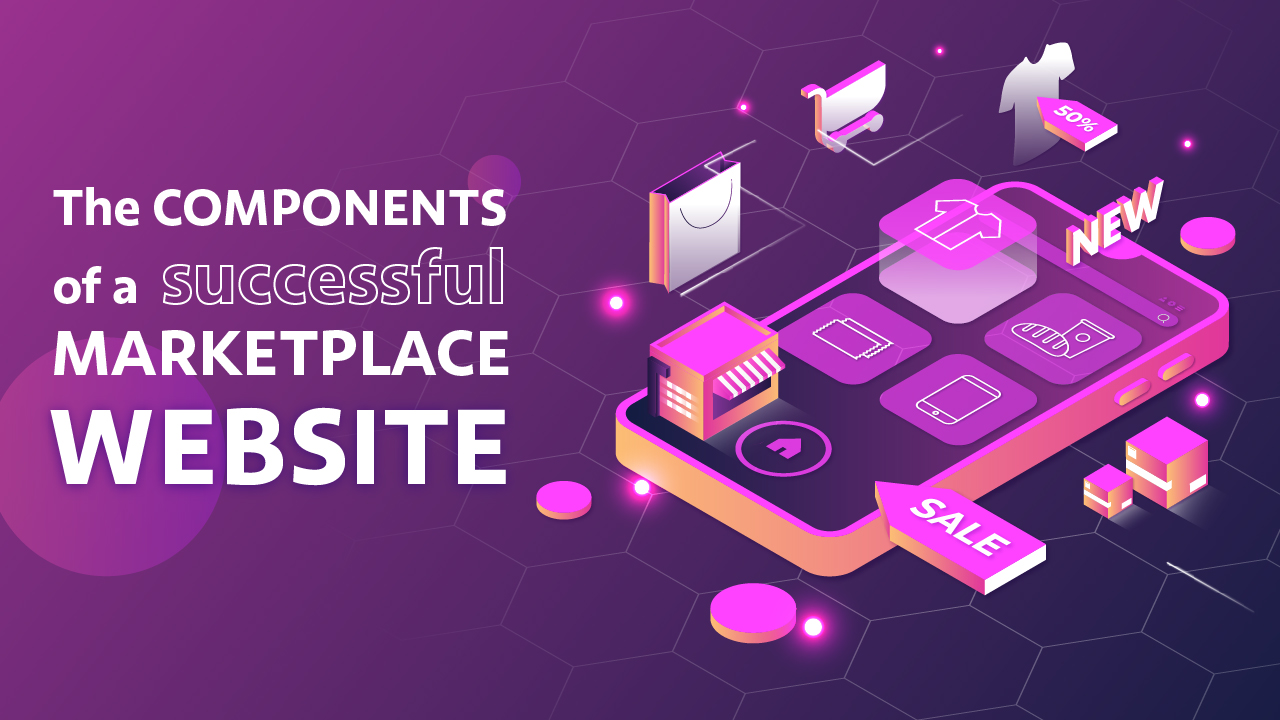 Online marketplaces are becoming an increasingly popular way for businesses to sell their products. However, ensuring success for an online marketplace requires more than just listing products on it. To make your marketplace stand out from the competition and attract customers, you must make it engaging, secure, and user-friendly.
In our previous blog, we discussed the questions you should ask yourself before starting an online marketplace. Once you have answers to those questions, you can start designing the website. To help you in the process, in this blog, we have listed the most important components of the website. Whether you want to improve your existing website or design a new one, the following elements can help you to create one that delivers results:
The first impression that your website makes on its users will determine if they will stay browsing it, and its homepage creates that impression on them. It is the page that your sellers and their customers will start their journey on. Therefore, it should be designed to engage customers and encourage them to explore the site further.
The page should contain links to information about your company. It should direct customers to the subpages with the least number of clicks. You can achieve this by having a search bar at the top of the page in a striking colour.
Signup And Login
Customers prefer to access websites without going through a lengthy process. As logging in is the first step in using marketplace websites, speeding up the process can encourage customers to use them frequently. You can ensure quick login by implementing password-less login options like social media/email integration and biometric authentication.
Customer And Seller's Profiles
You will have two kinds of profiles to manage – those of your sellers and their customers. Sellers should be able to add all the necessary information on their profiles that can assure their customers of their credibility, like their business name, logo, location, contact details, product listings, and social media profile links. The customer's profile should enable them to add basic details like their name, gender, age, and location, and should allow them to track their placed orders.
As customers cannot touch or try on the products that are sold on an online marketplace, product pages can help them to make purchase decisions. The main product page of your website should display all product images on a single page and link them to the subpages of each product. The subpages should contain the availability status, descriptions, prices, and images of products along with product recommendations, your company's return policy, and a call-to-action button that allows your customers to purchase the products.
You should display past customer reviews and ratings for your sellers' products on your website as most customers check them before purchasing products. Knowing that other people had a positive experience with a product makes them feel confident to purchase it. Your sellers can use the reviews to understand what is working in their products and what is not.
Both your sellers and their customers will require support. Sellers can face downtimes and their customers can have questions regarding your marketplace or the products at any time. Providing round-the-clock support can help you to ensure high uptimes for sellers and satisfaction levels for their customers. You can choose from multiple mediums to offer support like FAQs, call/chat with live agents, or chatbots.
Checkout Page
It won't matter how many people visit your website if none of them purchases your products. This makes the checkout page the most important one on the site. This page brings revenue for you and your sellers and should be designed carefully.
To keep your customers coming back to your website and refer customers, you should enable them to complete purchases quickly using their preferred payment mode and ensure the security of their personal and financial information. Other features that you should incorporate into the page are multicurrency support, multiple e-wallet and card options, cash on delivery, vouchers, and gift cards. This will help you to reach a wide customer base.
You can send different kinds of notifications to your sellers and their customers. As your customers cannot pick up products immediately after purchasing them, live notifications can help both parties to track placed orders. Sellers can also make sure that the products reach the right customers quickly without getting damaged.
As your customers will not be able to see products on shelves unlike in physical stores, notifications can let them know whether the products are in stock.
This feature can be useful to both you and your sellers. You can use it to track the sales made by all your sellers on a single platform. Sellers can track the sales of each of their products, know where their website traffic comes from, understand customer behaviour, and gauge the effectiveness of their marketing campaigns.