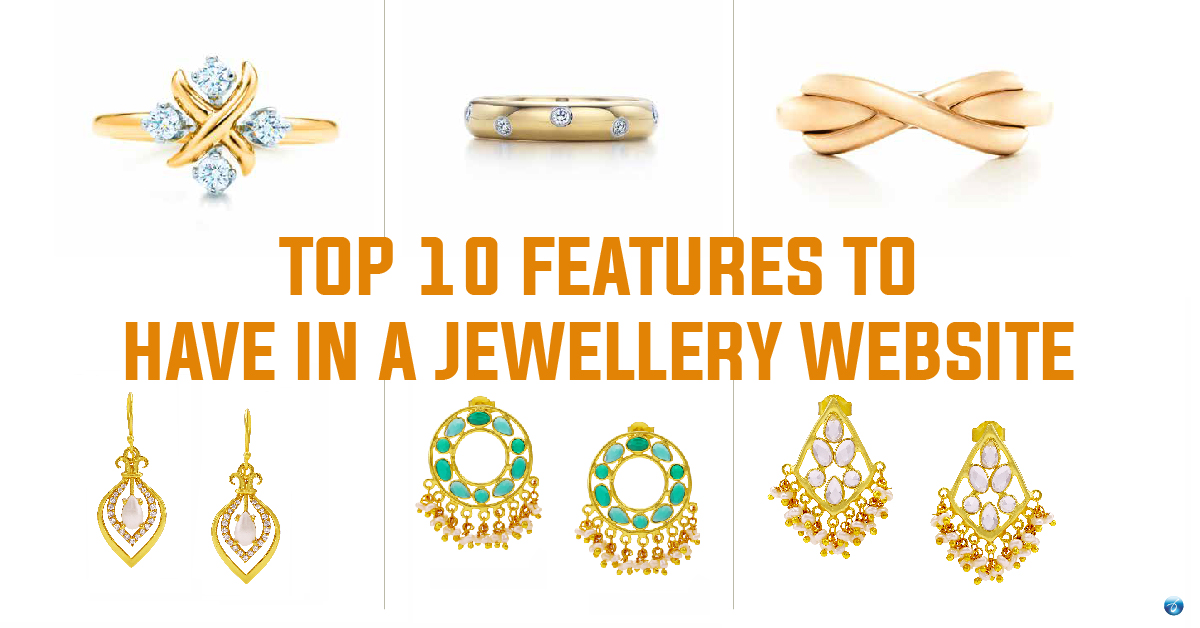 As every market is unique so is the jewellery domain. When it comes to online business, jewellery brands require specific features and functionalities to have a precise business process. Having a website allows the jewellery brands to have better strategic and operational decision so that they can enhance customer satisfaction, make better growth and increase revenue. Recreating the joy of purchasing jewellery in a brick and mortar store is what the best jewellery website needs to offer of an online store.
Here are some features that are important to have in a jewellery website:
1.Simple Design
Simplicity is the secret to the success of a jewellery website. As the product with its aesthetic beauty and monetary value is the centre of the attraction of the website, the website's design should not overshadow the products.
2.Excellent Navigation
User-experience has a great effect on the effectiveness of a website, be it jewellery website or any other website. A jewellery website should provide a smooth user experience. The visitors shouldn't look for things such as 'add to cart' buttons, 'checkout' buttons etc. The navigation should be obvious as visitors won't think twice to leave your online store if they don't find an excellent user experience.
3.Data Collation
One of the important things to be achieved in a jewellery website is data collation. You should make sure to organise inventory data in a spreadsheet format which may include metal type, metal weight, stone type, stone cut, stock number etc. The data migration from the spreadsheet to the backend should be seamless so that there remains no confusion.
4.Detailed Product Description
A dynamic and effective product description is very important to engage the visitors and influence them to buy. The description should not be just information about the products but it should evoke interest on the visitors to make them buy your products.
5.Vibrant Images
As human beings are instinctively drawn more towards visuals than text, product images are great tools for online businesses. In fact, a significant percentage of information gets transmitted to our brain through visuals as absorbing and processing meanings of the visuals require less effort. And in case of jewellery website, product photography is the most crucial aspect. Vibrant images show the jewellery at its best and can attract the attention of the visitors. Make sure to provide multiple product photos from different angles.
6.Easy Checkout
Shopping cart abandonment during checkout happens a lot and this is a great source of loss for the owners of the jewellery store. Cart abandonment during checkout can be reduced by making the checkout process easy. It's not a good idea to make the visitors create an account before making a purchase. Offering your visitors guest checkout option makes the buying process simple for the visitors. And once the purchase is done, you can ask them if they would like to create an account for their future purchase.
7.Persistent Shopping Cart
It's seen that most customers add products to their shopping cart and leave the site to return later. And this happens a lot in case of a jewellery website. But on their return to the site if they find the shopping cart empty, customers find it boring to search the product again and do the purchase. Offering a persistent shopping cart is the solution to this problem. It can be achieved by providing a retrievable link through email and having persistent cookies.
8.Policies
Policies of online jewellery store are very important factors to get the trust of your customers. Policies such as return, exchange, shipping, terms and conditions etc. should be mentioned clearly so that there remains no confusion in the minds of the customers.
9.Customer Care
Selling jewellery online is pretty different from selling other products online. As customers are going to invest a quite a good amount of money while buying jewellery, they want to make the purchase a well-informed one. Customer support in the form of online chat, email support, call etc. are a few ways to achieve to customer trust.
10.Multiple payment methods
Providing different payment option is important when you run an online jewellery store. A good percentage of customers abandon the cart during checkout as they don't find the payment option they are looking for.
 * * *
Have questions? You can drop us a few lines at: info@revalsys.com
For more information, you can reach us at: www.revalsys.com.
With 10 years of proven excellence, Revalsys Technologies is a platform that offers end-to-end IT services and digital solutions. Be it Website Designing, Website Development, Application Development, Product Engineering, Business Process Consulting, Digital Marketing Services like SEO, SMO, PPC etc., Cloud Infrastructure, Hosting Services, Mobility, Database Design and Development, Database Administration, Design Studio, Microsoft Technologies, Java Open Source Development, Mobility Services, Front-end Technologies and Network Engineering, we offer various technological solutions.
Our services include RevaleBiz, RevalCRM, RevalHRMS, RevalINTRA, RevalCMS (Reval Content Management System) and E-commerce Marketplace Solutions. From the inception of the project to review and beyond, you'll remain informed and empowered. We don't just provide customer satisfaction, we provide delight.
We are here to help you by becoming your technology partner!