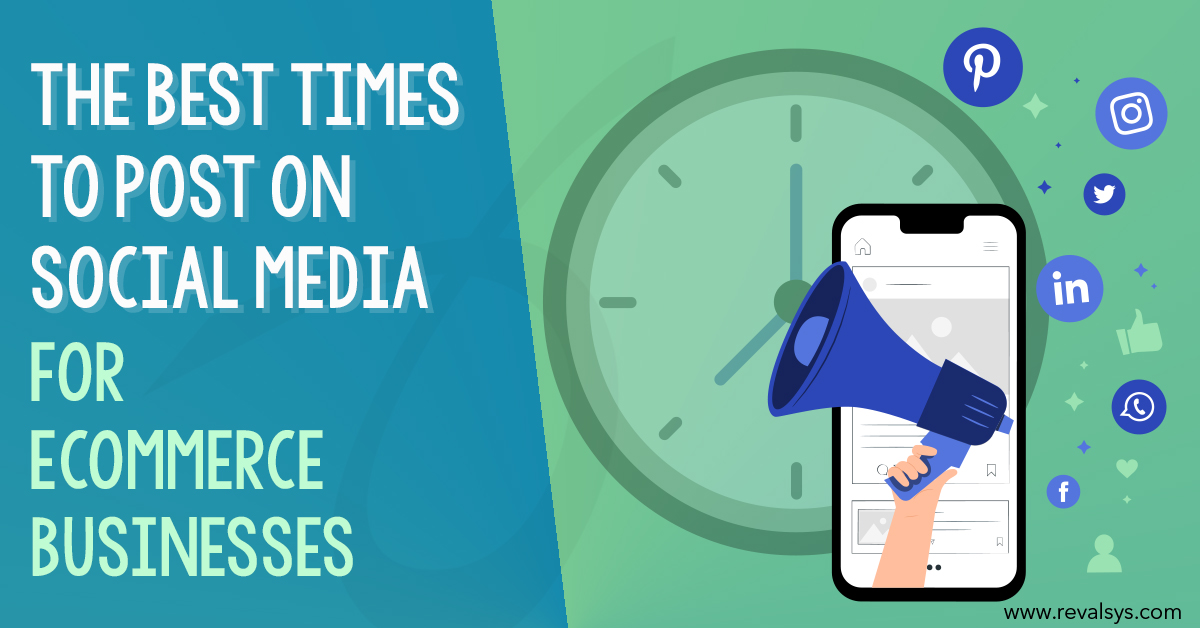 Social media is a very important medium for your ecommerce business for communication as well as doing business. It not only helps you to stay in touch with your customers, get to know their preferences, and market your products to them but also enables you to sell your products to them.
It is no longer important for you to just post the right kind of content on social media. You must also make sure to pick the right times to get your message across to your target audience to increase your visibility, and in turn, engagements and profits.
In this article we have listed the ideal times and days to post on some of the top social media platforms that you can use to improve your engagements:
Facebook
Facebook is the largest and the most used social media platform. It offers ecommerce businesses the biggest follower base. Apart from staying in touch with their family and friends, people also use this platform to stay connected with ecommerce businesses. They check out the products that businesses have to offer on their official business pages, make purchases using the "Shops" feature, and use the chat feature to contact businesses regarding their complaints or feedback. After purchasing a product, customers share their experience on the site. They usually check Facebook before starting work or during their lunch hour.
Best Times To Post – 8am-11am and 1pm-4pm
Most Recommended Times To Post – 11am and 3pm
Best Days To Post – Tuesday, Wednesday, Thursday, and Friday
Most Recommended Day To Post – Wednesday
Twitter
Most of the users of Twitter are young people aged between 25 and 34 years. They use the platform as a news source, to keep up with the latest happenings in the world. Twitter enables posting "tweets" within a limit of 280 characters, which makes it an ideal platform for businesses to share important news and announcements. Live tweets are used to cover events such as product launches, and live chats help brands to connect with and get to know their customers. Twitter's users mostly access it through its app on the go.
Best Times To Post – 9am, 12pm-3pm, 5pm-6pm
Most Recommended Time To Post – 12pm
Best Days To Post – Weekdays
Most Recommended Days To Post – Wednesday, Friday, and Saturday
Instagram
Instagram is a photo and video sharing app. As it is a visual medium, it is important that the posts on this platform are high quality and pleasing to the eye to easily attract viewers' attention. Engagement is a factor that affects the visibility of Instagram posts. Posts with the highest number of interactions are placed on top of the feed and suggestions.
Like Facebook, Instagram is also used to browse and purchase products. Ecommerce businesses with a presence on Instagram must post high definition, attractive, and relevant pictures along with informative and catchy captions to increase their engagements as well as sales.
Best Times To Post – 9am-1pm, 3pm, 7pm-9pm
Most Recommended Times To Post – 11am and 3pm
Best Days To Post – Weekdays
Most Recommended Day To Post – Wednesday
Pinterest
Pinterest is used to find inspiration for outfits, makeup, interior decoration, recipes, etc. Users can save their favorite "Pins", try the ideas given in them, and then post photos and videos of the same on the site. These photos and videos can be seen in the "Tries" section of their profiles. Unlike the other social media sites, commute times are the worst times to post on Pinterest.
Best Times To Post – 8pm-11pm and 2pm-4am
LinkedIn
LinkedIn is a social networking platform for job seekers and companies. Companies use it to spread the word about their available job opportunities and job seekers use it to look for suitable opportunities. LinkedIn allows job seekers to post their profiles, select preferred job positions, and let recruiters know if they are actively looking for jobs. LinkedIn's algorithm, like that of Instagram, prioritizes posts that receive the most engagements.
Best Times To Post – 8am-2pm
Most Recommended Times To Post – 10am-11am
Best Days To Post – All week
Most Recommended Days To Post – Wednesday and Thursday.