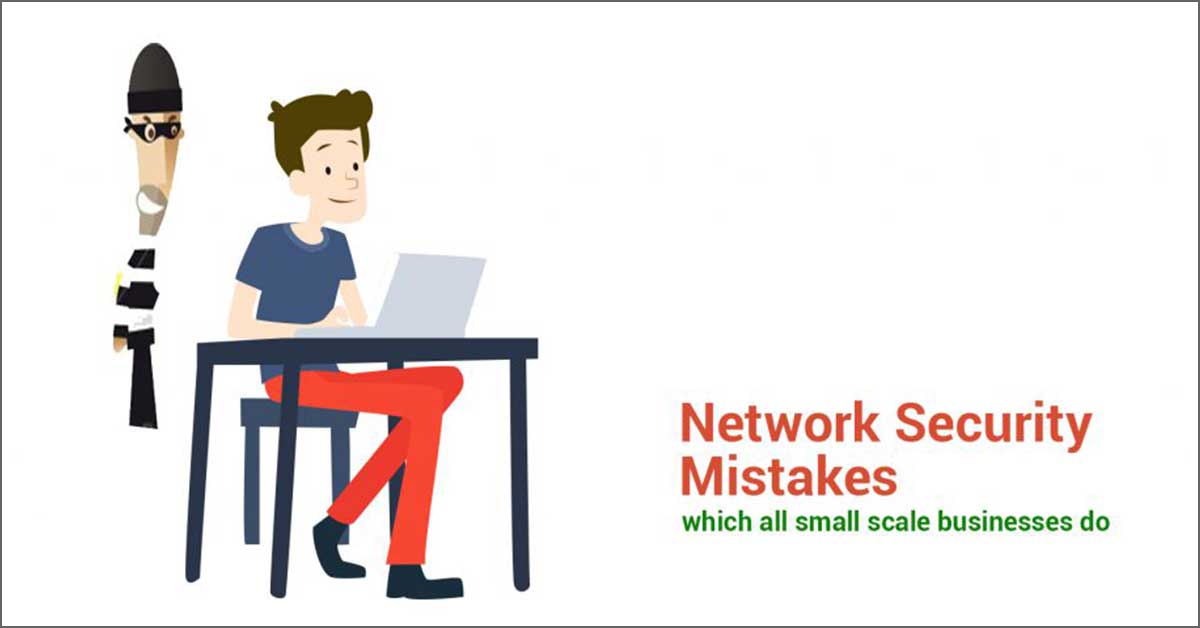 In today's world, network security is the primary factor of all businesses, be it small or large. Every large company starts from small. In order to flourish your business, you need to pay heed on different aspects. And network security is one such; your systems need to be protected from different types of viruses, malwares, spywares and other internet threats.
Hackers use different types of methods to steal important information of companies and customers to do unwanted activities. Some small scale business get the network set up running without making sure that all network security measures are in place. You have to be fully equipped with preventive measures and don't involve in doing security mistakes which might be harmful to your company.
Here are some top network security mistakes that small scale

businesses

do.
Getting to know about such mistakes will let you to avoid or not repeat them.
Assuming your company will not be target for cyber criminals: Simply assuming that being a small sized organisation, your business will not be a target is one of the big mistakes regarding network security. Be it small or large, it doesn't matter to online criminals; security breakdowns can occur to your business, as well. Since all businesses possess sensitive information, which can be beneficial for somebody, such people hack important information providing a huge damage to the business operations.
Believing anti-virus is sufficient for network security: No matter anti-virus software is essential for protecting a system from varied viruses but with constantly evolving cyber attacks, only an anti-virus is not sufficient to protect your whole network and computing system. Along with anti-virus, firewalls should be installed and data encryption process needs to be implemented. Translation of data into secret codes is the most effective method to achieve data security.
Thinking IT people to be only responsible for security: No doubt, IT guys are more responsible to provide network security to business, but staffs of other departments should also be involved in carrying out this responsibility. They should be trained properly regarding the use of software, the need to update the software, how to identify malicious mails, attachments and downloads, how to keep strong passwords, need to change passwords periodically etc. Uneducated users often fall prey to phishing attacks, viruses, spyware etc. which leak sensitive information and corrupt the systems.
Lack of backups: Backups are essential part of security measures. At times of network security breakdown, it becomes very difficult to re-create the works if you don't have backups. Creating backups at regular intervals saves you at the time of emergency. So, whatever be the size of your firm, backup is a necessity to keep data safe and work going organized.
Neglecting security monitoring: With vulnerabilities residing across network, databases, applications etc. ignoring security monitoring is one of the biggest mistake small organisations make. Regular monitoring through automated scanning system along with deep-dive penetration system is very essential to keep all things secured.
* * *
Have questions? You can drop us a few lines at: info@revalsys.com
For more information, you can reach us at: www.revalsys.com.
With 10 years of proven excellence, Revalsys Technologies is a platform that offers end-to-end IT services and digital solutions. Be it Website Designing, Website Development, Application Development, Product Engineering, Business Process Consulting, Digital Marketing Services like SEO, SMO, PPC etc., Cloud Infrastructure, Hosting Services, Mobility, Database Design and Development, Database Administration, Design Studio, Microsoft Technologies, Java Open Source Development, Mobility Services, Front-end Technologies and Network Engineering, we offer various technological solutions.
Our services include RevaleBiz, RevalCRM, RevalHRMS, RevalINTRA, RevalCMS (Reval Content Management System) and E-commerce Marketplace Solutions. From the inception of the project to review and beyond, you'll remain informed and empowered. We don't just provide customer satisfaction, we provide delight.
We are here to help you by becoming your technology partner!