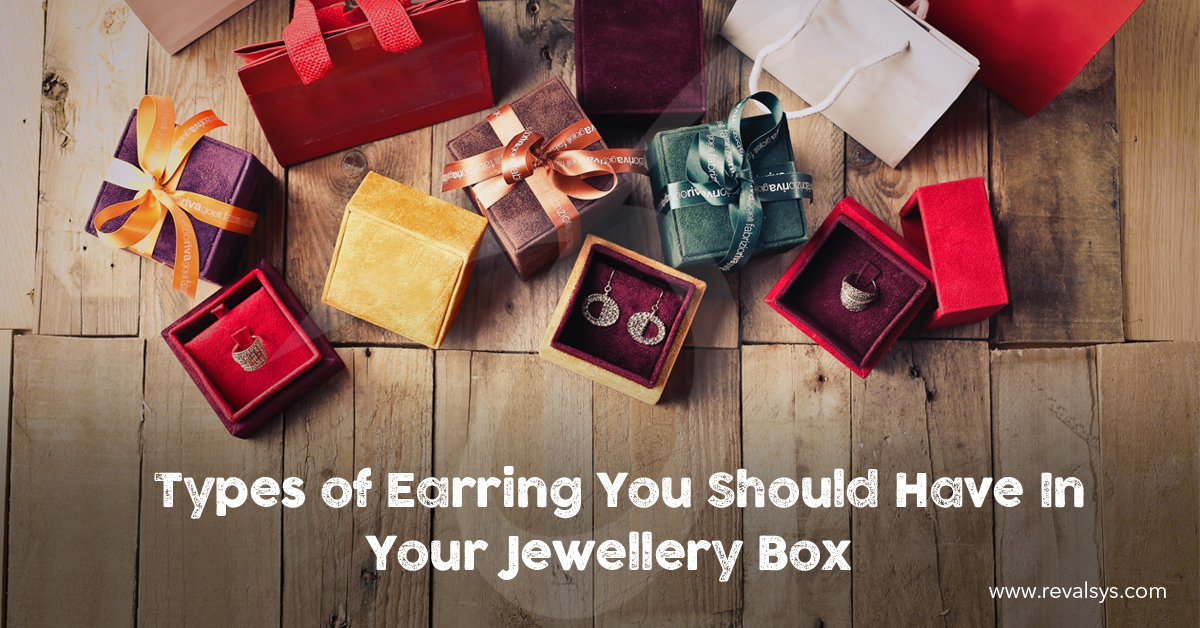 While it's the dream of most girls to have a jewellery box full of jewellery, but the chance is higher that you hardly wear them all. And when you have to get ready for a family function or wedding festivities, you always feel like falling short of jewellery and clothes.
Without a perfect pair of earrings, your look seems to remain incomplete. And being unable to find the right pair that matches your outfit, it's something which we don't like at all.
Considering that you have to rush here and there to get a matching pair of earrings, we have assembled certain earring pieces that can save you anytime you need to coordinate your outfit with a pair of earrings.
• Jhumkas – Love Forever
Whenever you need to attain a traditional feel, a pair of jhumka earrings is just the best choice. A timeless piece of jewellery, jhumka earrings doesn't go out of fashion. With jhumkas, your jewellery collection will remain incomplete. Oxidised silver is best to be paired with a pair of jeans and kurti which enhances your casual look. For festive or special occasions, you can wear a traditional gold jhumka with an anarkali, saree or a lehenga.
• Chand Balis – Always Captivating
Having a stunning pair of chand bali earrings will definitely add panache to your entire look. Regardless of face type or skin tone, chand balis look great whoever wear. These ethereal pieces of jewellery get a special place in the most loved jewellery box of every woman.
• Chandelier Earrings – Enchanting Touch
Nothing can beat the magic of chandelier earrings. This fascinating type of earrings is best for a cocktail party or any other parties which you can beautifully club with a gown or dresses. Embellished with beautiful stones, chandelier earrings along with a perfect hairdo will definitely offer you the best shot whenever you attend any special occasion.
• Stud Earrings – Everyone's Favourite
One of the best pieces of jewellery that offer a sophisticated look on formal occasions, studs can also offer a glamorous look when matched with perfect attire on special occasions. From big to small, simple to bold designs, there are different types of studs available which you can club with different outfits for different occasions.
• Dangler Earrings – It's Time To Flaunt
Dangler earrings are attractive pieces available in various designs, shapes and sizes. Based on the occasion and the outfit you'll be wearing, you can choose a pair of dangler earrings that go with your taste, as well. You'll definitely make a phenomenal fashion statement wearing dangler earrings.
• Hoop Earrings – Be Glamorous
Having a pair of hoop earrings in your jewellery box is an absolute must that save you on different occasions. Be it a big-sized single ring or a loop of various rings, wearing one can surely make you look stylish. Hoop earrings go well with almost every outfit; so you don't have to think twice to wear hoop earrings on any occasion.
• Drop Earrings – Provides Different Style
As drop earrings come in different designs, you'll definitely have a favourite pair of drop earrings. If you love girly styles, you can pair drop earrings with cute dresses, jumpsuits etc. You can complete your look by wearing flats or pointy heels. For a refreshed style, you can wear colourful drop earrings that match with the outfit. And for an elegant look, what's better than wearing a pair of delicate drop earrings.
• Feather Earrings – It's Time to Fly
Because of its bold and striking look, feather earrings are the foremost choice for the one who wants to look stylish and chic. Fashionable in appeal and easily manageable, feather earrings offer you a unique look.
• Ear Cuffs – Look Fashionable
Wearing a striking pair of ear cuffs can make you look extremely fashionable which is best to be paired with western as well as Indo-western outfits. Covering almost the entire ear, ear cuffs are available in different designs.