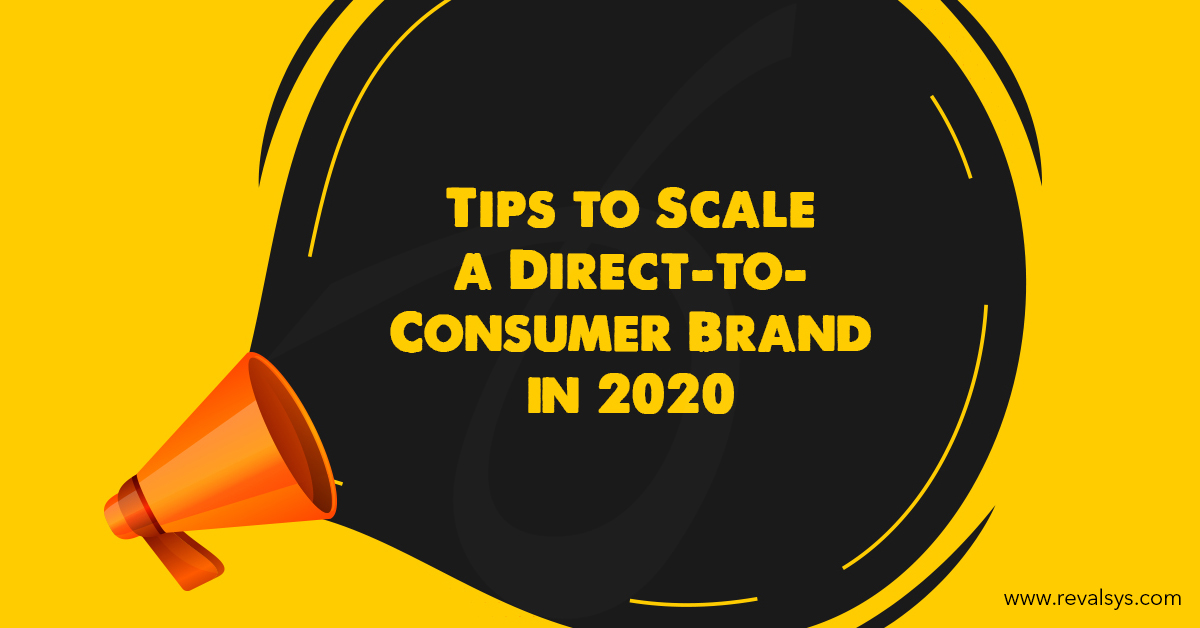 Direct-to-consumer (DTC) brands have been in limelight these days, of course for good reasons. These days manufacturers have the opportunity to eliminate the middle-man and get access to the market themselves with the help of eCommerce websites and applications. Doing so offers a close relationship with the customers, greater control, and a higher margin.
Ways to Scale a Direct-to-Consumer Brand
However, going through this path does come with its challenges. Transforming into a successful eCommerce player even for the established ones is not that easy. Here are a few important ways to make better your direct-to-consumer brand.
• Use targeted email campaigns
Well, we all know how important is targeted email campaigns in businesses these days. It is a wonderful way to know the needs of the customers by ensuring that the email content they receive is relevant to them. So, you should know well whom to send the emails and personalised the marketing content by knowing the persona and requirements of the customers.
As in any other business, the importance of targeted emails has increased immensely in direct-to-consumer ones, as well. Being one of the better converting marketing channels, leveraging the benefits can take you to the next level. To ensure higher customer acquisition without spending too much, such businesses need a higher rate of conversions. Segmenting the email list has become extremely crucial to send each customer more personalised emails specific to their interests and your sales funnel.
• Deliver best customer service
Customer service is another important aspect to be taken into consideration for a successful direct-to-consumer business. By offering top-notch customer service can create a loyal customer following, get positive reviews and testimonials, and regain customer acquisition cost, as well. The process of customer service starts with users enquiring about your products or services and continues even after the completion of the purchase process. So, it's important to have a well-trained team of employees to offer the best customer experience at each of the touchpoints and create customer loyalty. When you have happy employees in your customer service team, you have happy customers.
• Have a good logistic partner
Assuring customers quick delivery of orders in the best condition is one of the ways the well-established and large companies are able to attain their market share. If you're into direct-to-customer business, you may not have an extensive logistic system in comparison to those of the more established ones. So, it's necessary to partner with a good logistic partner that can streamline your product delivery process. But being a smaller one, you can take quick actions and adapt to new situations.
• Streamline the purchasing process
Offering a seamless buying process from your website is a matter of great importance. Streamlining the process needs establishing specific buying steps to minimise the time required between a customer requesting a product and receiving it. Doing so also cuts out waste and boosts your finances. You need to come up with innovative purchasing approaches to get a significant difference in customer experience. Such approaches would definitely benefit your business.
• Create a community
To move forward successfully in this competitive business environment, you should have a story that customers can recognise easily and connect with. Having a community of like-minded customers who indulges in active communication about your brands or products helps a lot in scaling a DTC business. However, creating a community is not that easy and requires time. You can begin by having a clear and consistent brand philosophy in every customer interactions and all marketing channels. Focus on the conversation takes place organically while ensuring that community engagement leads to your website.