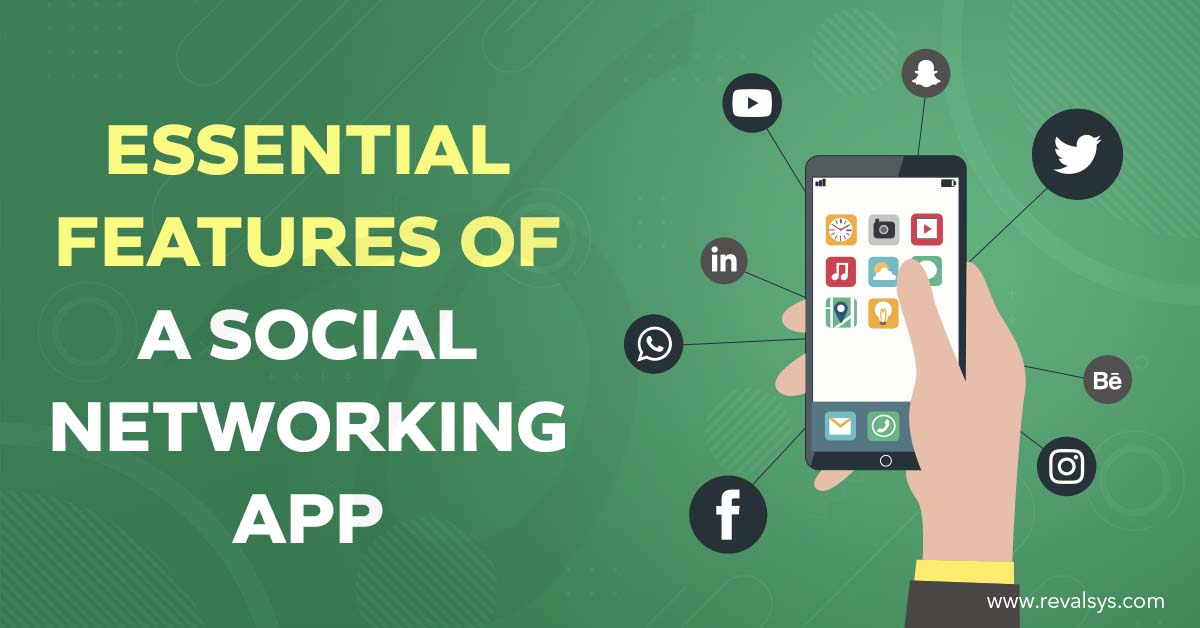 Social media has changed the way people interact. It is popular with brands of all sizes and people of all ages for its reach and ease of use. With the world in self-isolation and in-person communication becoming difficult, 4.20 billion people are spending close to two and a half hours per day on social media now.
Social media apps are a great business opportunity now. If you are a developer or a business owner looking to create a social media app, here we have listed some of the important features that you should incorporate into it to ensure its success:
Account Creation And Login
Creating an account and logging into it is the first step to using social media. This step creates a first impression in users' minds about your app. Make the process easy for them. Provide multiple options to sign up like username, email, and phone number. Speed up the login process by providing the "remember password" option. Simplify account recovery by adding the "forgot password" option.
User Profile
After users create their account ask them for further details like their education, work, relationship status, interests, etc. But don't make it compulsory for them to provide all these details – let them choose which details they want to share.
Search Bar
An important part of using social media sites is building connections, and search is the first step in this process. Enable predictive search in the search bar and include a suggested results dropdown for people, groups, and pages. Include text in the box like "search", "type here", or "start typing".
Follow/Like Button
The social media way of connecting with accounts/pages is following/liking them. Allow users to follow accounts directly by clicking on the "follow" button or enable them to send follower requests for other accounts to accept.
Chat And Call
Give users multiple options to communicate with their connections, like messaging, audio calls, and video calls. Allow them to send media on chats. Allow one-on-one and group communication.
Post Creation
People and brands use social media to express themselves. They express their views on current issues or promote products and services by creating posts on their accounts. Enable them to put up textual posts within a character limit. Make it optional to add pictures, videos, GIFs, location, etc. Add a comments section to allow followers of users to interact with their posts.
News Feed
The news feed shows users posts from accounts they follow. Allow users to customise the order of posts on their feed. Provide the option of seeing posts in the order in which they are posted, or posts from certain accounts on the top.
Groups
Social media groups are online communities created by users with common interests. Only the members of groups can share content for the other members to interact with. Those who are not a part of a group will only be able to view its content. Allow users to join groups by clicking on a "join" button or create guidelines that users have to accept to join.
Temporary Status
A temporary status or "story" can be seen on user accounts for 24 hours. Stories have a shorter word limit than posts. Brands use them to create awareness for limited-time offers. Stories also come with a "poll" feature that helps users to get immediate reactions from their followers.
Photo Editing And Filters
People like to show off their best selves on social media. Editing and adding filters to media helps users to enhance it. Allow them to crop and beautify media content and offer multiple options for fun filters that they can add to make it attractive.
Emojis, Stickers, And GIFs
These are colourful, animated elements that add emotion to content. Allow users to choose from various sets of emojis, stickers, and GIFs to download and share on their status, story, and chats.
Chatbots
Chatbots play an important role in offering customer service on social media. They speed up the process by reducing human involvement, and they can be taught to give relevant responses to queries.
Live Video Streaming
Streaming videos live helps users to connect with their followers in real-time. Live videos can be streamed from any place. They are used to conduct interviews, do live chats with followers, live stream events, conduct tutorials, take followers behind the scenes, do unboxing videos, etc. Allow followers of users to comment or react to live videos while they are being streamed.
Marketplace
Social media is no longer just a place for customers to research brands and products or check their word-of-mouth. They can also buy products without having to leave the sites. Social shopping has made online shopping more convenient and is becoming increasingly popular.
Multilanguage Support
It is not enough to just make your app available for free to widen its reach. To have a truly international reach, the app must speak the language of people in different regions. Offer users multiple language options to choose from apart from English.
Push Notifications
There are different kinds of push notifications that you can send to users, such as likes/favourites, comments, and shares on posts, new follower requests, and accepted follower requests. You can also remind users to put up posts when they haven't posted in a long time.