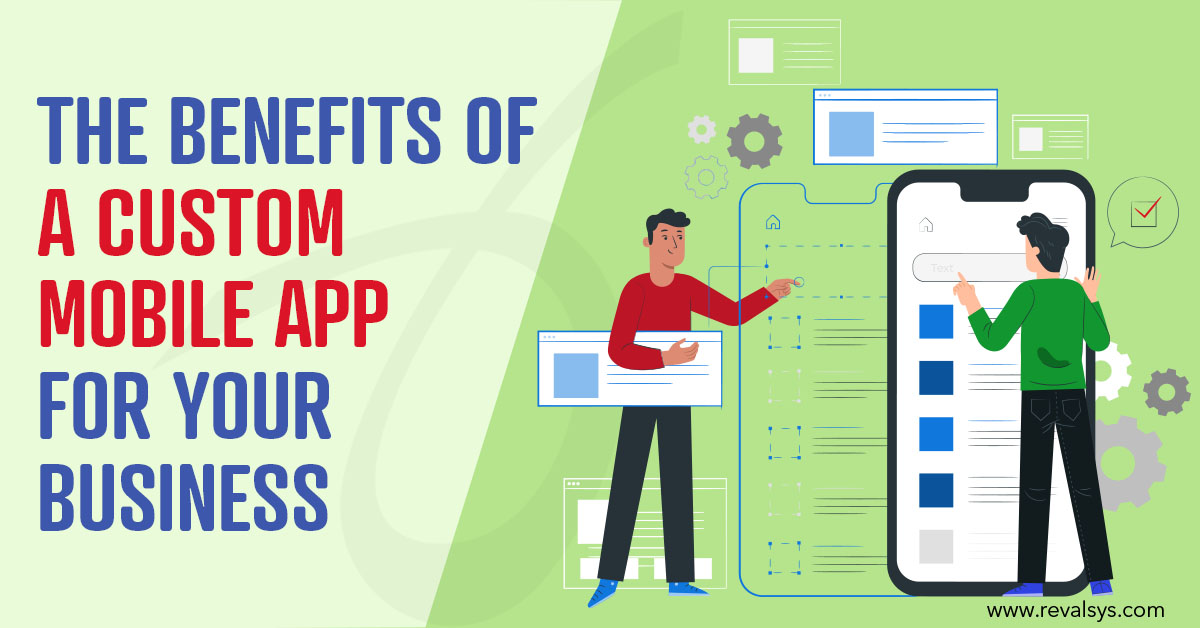 Every business, irrespective of its size, needs software to automate its business processes and improve its services in today's technological era. The right software solution helps your business to function smoothly and stand out from competition.
If you are looking to add a mobile app to your digital repertoire, there are two types of software you can choose from to build the app: off-the-shelf and custom.
Off-the-shelf apps are popular and affordable. However, you cannot control their development process as they are built by third-party vendors. Also, they are designed with the most common business requirements in mind and cannot address the specific needs of your business.
On the other hand, you can get your own custom app built from scratch. It is designed to meet your business's specific needs and can adapt to them as they change. These factors make your custom app unique and help you to stand out from your competitors.
This article lists some more advantages of using a custom app for your business:
Enhances Employee Efficiency And Productivity
A single custom app enables employees at different levels to perform multiple functions and share data. This helps you to increase employee collaboration and efficiency, enhance productivity, save time, and save costs required to develop multiple apps to do different tasks.
Keeps App Data Secure
Data security is very important in this digital age. Loss of data can lead to loss of customer trust and business. Off-the-shelf apps lack a few of the necessary security features. A custom app's security measures can be designed to suit your business's needs. The app's data is protected from any unauthorized access. You can also choose to assign different levels of permissions to different members of your organization in this app. Off-the-shelf apps don't offer this flexibility.
Maintenance And Upgradation Is Easy
As a company grows so does its website or app. The developers of off-the-shelf apps are also responsible for their maintenance and updation. Some of these apps cannot be scaled along with a company, while others are expensive to scale.
On the other hand, you can design your own custom app, and also maintain and update it yourself. And if you are getting it designed by a developer, you can just notify him when you are planning to scale your business and he will design the app's features accordingly.
Personalized Experience Enhances Relationship With Customers
You can send your customers important company and product updates through notifications and can allow them to personalize the frequency of the notifications. You can also personalize notifications like those of offers for each customer, and ask them for feedback to improve their experience of using the app. When customer experience and satisfaction are enhanced, the app's download and engagement rates improve.
Increases Revenue
Along with engaging your customers, custom apps can be a great way for you to increase your business. There are many ways in which you can monetize the app. It can be made available to download at a cost. And to encourage your customers to spend more using your app, you can use in-app purchases like subscriptions and upgrades or tie up with other businesses that sell products or services related to yours.
Helps To Save Money
Building a custom app can be expensive, but it won't require any further future investments. Also, by building one custom app instead of multiple regular apps, you can cut down on the costs required to hire staff for its development, maintenance, and upgradation. You can use this money to expand your business.
Helps To Increase Brand Awareness
Custom apps, like off-the-shelf apps, are a great medium for increasing brand awareness in your customers irrespective of the size and experience of your business. Every time your customers open the app, the first thing they see is your brand's logo. This strengthens your brand recall and makes it more memorable for your customers. The more they use your app, the more they will think about your brand and will want to make purchases with you.
Multidevice Compatibility Increases App's Reach
Off-the-shelf apps are built with one particular device in mind. If you want to make your app compatible with multiple devices to ensure a wider reach for it, you will have to get it built separately for each of your target devices, which is an expensive process. Whereas one custom app can be compatible with multiple devices.