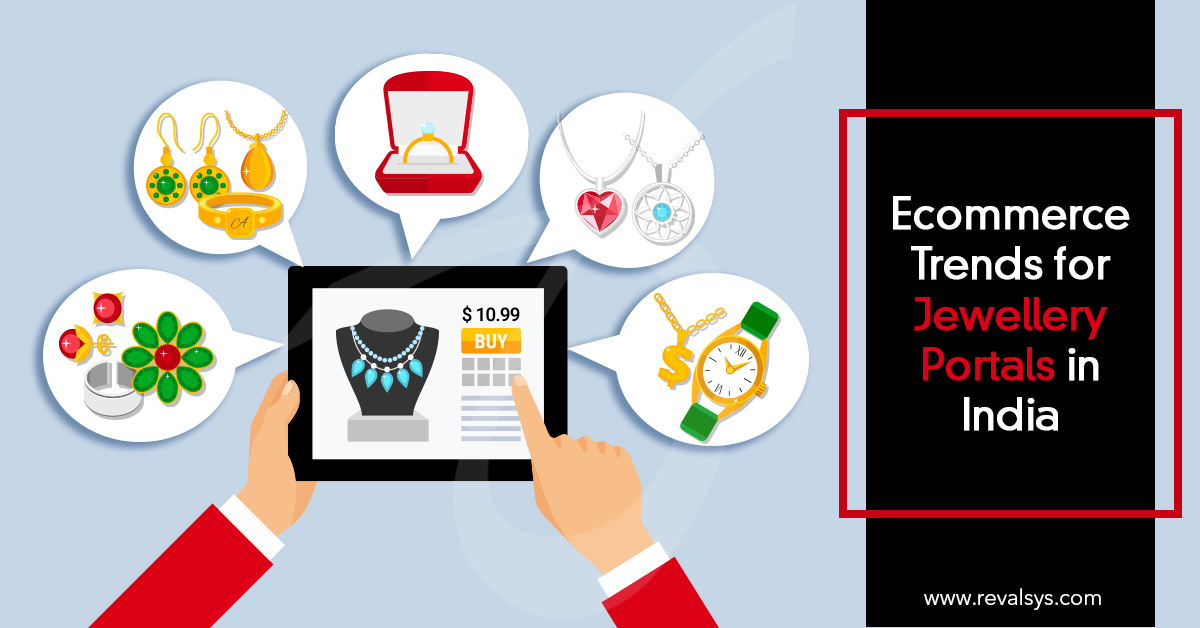 The significant growth of eCommerce in India has aided various industries including the jewellery sector. The proliferation of smartphones and affordable data has made people shift towards online shopping. Women these days don't shy to experiment with jewellery and don't mind spending on jewellery to make a fashion statement. They don't stick to only gold and silver jewellery to adorn themselves for different occasions.
With easy access to eCommerce jewellery portals, women prefer shopping online rather than visiting an offline one. The number of options available, the ability to see the product details and availability of different payment modes make online jewellery shopping more convenient. Customers can even compare jewellery prices to make the best buy.
eCommerce Trends in Jewellery Sector
As with any other sector, the jewellery industry also faces challenges to move forward successfully. By using the changing preferences of the customers along with the advanced technologies and following the latest trends can help attain a good portion of the market share.
•  High-end customer service
As the jewellery is a luxury for every woman, customers want to feel secured while making an online purchase. In spite of the details given on the product page, there are a lot of other questions in the minds of the customers. Live chat support can make a huge difference to traffic conversion and sales.
A sense of surety and satisfaction arise when the customers converse with you regarding the queries they have. You should minimise the number of steps that need to be taken and make it easy for the customers to reach you. The customer support team should be well-trained and remain available all the time. After-sales service is also important to provide your customer a great shopping experience.
• Social media marketing
Currently, social media is one of the best places to market even better. Social media channels demand consistency to make your marketing efforts successful. However, by consistency, it doesn't mean posting updates about your products regularly to remain active. You should keep your profile updated regularly and keep your customers engaged by strategizing. Based on the strategy, provide updates and keep a check on how customers are responding. Doing so will help you take the necessary steps.
You can attach actionable CTAs and links that take the customers to the website directly. As pieces of jewellery are appealing products, use clear, multiple product images along with 360-degree videos allowing the customers to have an actual view of the products.
• Use of testimonials
For eCommerce sector like jewellery, creating trust among the customers is crucial. Customers who are new to the online mode of jewellery shopping need a kind of assurance that they are purchasing authentic jewellery. The purchasing decision of the customers can be greatly influenced when they read reviews of people who have already purchased from you.
In order to make customers offer product reviews, you should include only the minimum steps making the process easier. You need to respond to customer reviews every time they provide one making them feel that they are important. You can offers discounts, coupons and so on to the customers on their next purchase for the reviews they provide. You need to take into consideration even the smallest of things when you sell, jewellery online.
• SEO
Search engines advancing at a rapid pace for offering better, exact search results of the searches made by the users. Making your jewellery website search engine optimised based on things such as keywords most used, content the customers prefer reading, well-optimized category pages, keyword-optimized product names and descriptions, updated blog related to jewellery and so on.
In addition, make sure that your website is a responsive one, loads fast, have internal linking and other important technicalities.