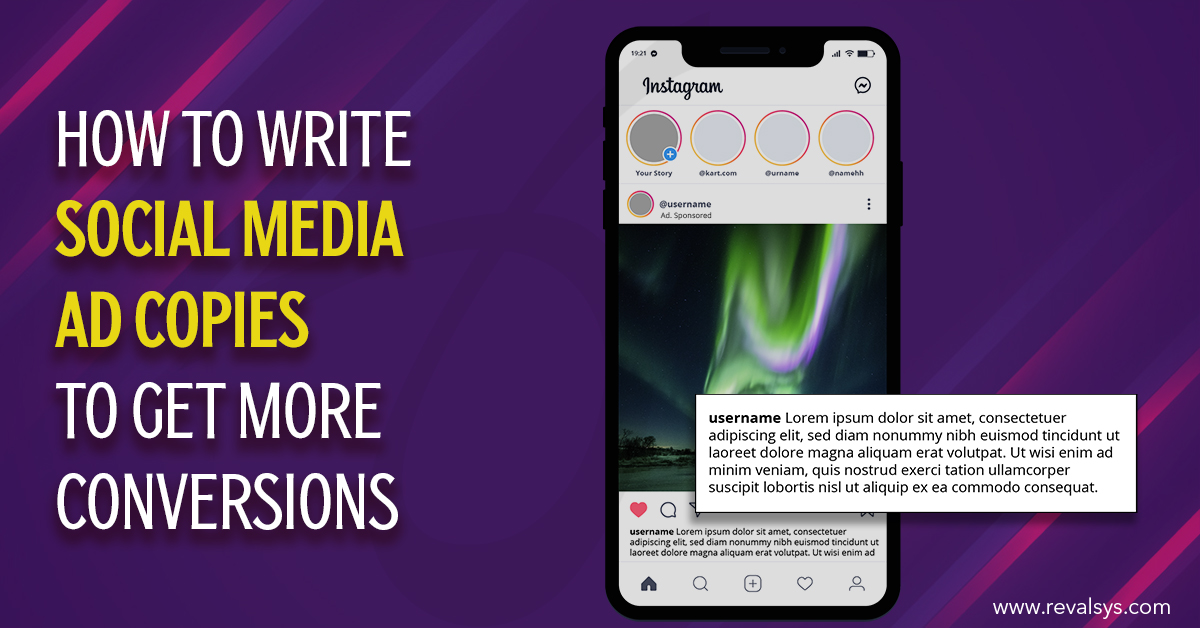 Social media ads are paid posts that are run on different social media platforms. They are the quickest way for your brand to increase the reach of your content, product, or brand. For your social media ad to be effective, it must have a compelling copy.
In this article, we have listed a few tips to help you write a social media ad copy that boosts conversions:
Determine Your Goal
You should identify your goal before you write your ad copy or invest any money. The goal can be creating awareness for your brand, increasing followers for your target social media channels, increasing engagements for one of the posts, driving more traffic to your website, or getting more installs for your app. This is an important step as it will determine your copy and budget.
Write A Catchy Headline
The headline is the first element of your copy that your readers see, and hence the most important. You should be able to quickly grab your readers' attention with your headline. To pique readers' interest, you should pose a question, provide a solution, create a sense of urgency, or even simply state your value proposition upfront. Use words like "bonus", "create", "discover", "exclusive", "free", "increase", "now", personalized words like "you", etc.
Maintain Consistency With Your Brand's Voice
You must stay true to the personality and voice of your brand as well as your followers while writing the copy. This will help your followers to easily recognize and relate to your posts. You should use the tone, language, and lingo that your followers use.
Use Emojis
Emojis attract attention quickly and are a fun way to communicate and increase engagement. If it goes with your brand's voice and your target audience, you can add emotions to your posts using emojis. However, you must remember that emojis are only complementary to human language and not a substitute. Using too many emojis can make your posts look too casual – you should use them only where they are needed.
Add A Call-To-Action
Get creative with your call-to-action to make it more effective. Avoid using ambiguous words like "learn more" and "click here". Give your followers a purpose to click on your link. Talk about an expiring or seasonal offer, or address the pain points of your target audience. You can also talk about the benefits that people might miss out on if they don't get your product or offer.
Keep The Description Short
People scroll through their social media feeds very quickly, often while doing their daily tasks. They don't usually have a lot of time to stop and read posts completely or click on the "read more" button. And with the character limits for each site, you also don't have a lot of space to work with. Make your copy easy to read – keep it short, use simple language, and avoid jargon. You should also answer the five W's – who, what, when, where, and why – in your post.
Use Social Proof
Your consumers are more likely to trust your brand when they know that many others have too. You can get customers to write down their experience and display it in the ad. To make it more effective you can use testimonials with numbers, and say, "Over a million people have bought our book so far, what are you waiting for?", for example.
Test The Copy's Length
When it comes to social media, you should experiment with everything – post lengths, timings, visuals, etc. – to see what works. It is an ongoing process. The same goes for social media ad copies. You should do an A/B test of various ad copies and lengths. Also called a split test, it involves showing different versions of a web page to different groups of visitors at a time to see which one converts more.
Test The Ad As An Organic Post
Social media ads are expensive to run. To save your time and money, test your ad as an organic post first to gauge its performance. Once you know what is working and what is not, make changes accordingly and make its best-performing version live.
Edit The Copy Twice
No matter how good your copy is, bad grammar, incorrect spellings, and missing punctuations will turn people off it. Anybody can make these mistakes irrespective of their expertise, especially after working on the copy for a long time. Proofread your copy and check for inconsistencies in the tone and unnecessary words. Hand the copy over to someone else to catch the errors that you might have missed and to get a fresh perspective.
We provide expert digital marketing services to empower your business with a strong social media presence.
Visit https://www.revalsys.com/services/digital-marketing.html or contact us at https://www.revalsys.com/contact-us for more information.