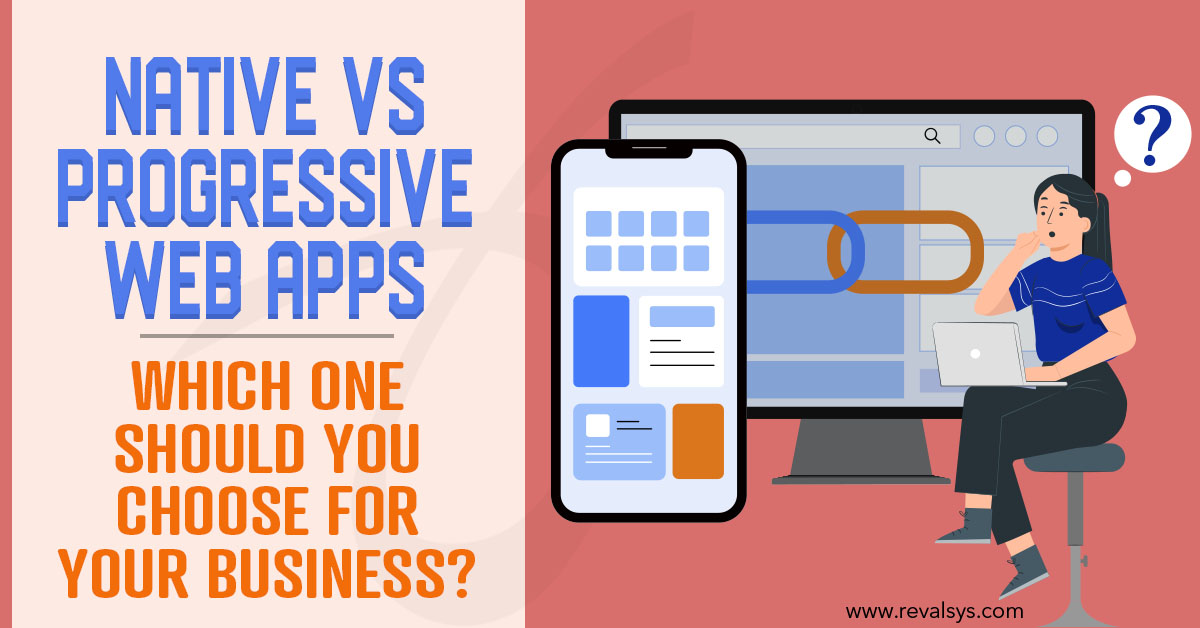 People today are not only tech-savvy but also always on the move. It has become important for businesses to engage customers no matter where they are. Mobile apps have become the new basic necessity for customers as well as businesses.
Native apps are the most preferred choice of apps, but Progressive Web Apps – a type of web apps that run on mobile devices and desktops – are gradually making their mark.
The biggest dilemma that faces businesses is which type of app to go with. If you are one such business, here is a comparison of the pros and cons of PWAs and native apps to help you decide better:
Progressive Web Apps
PWAs are websites working like mobile apps. They can be saved on a desktop in the form of icons and accessed through a browser.
Pros
Easy To Install And Use
PWAs don't need to be downloaded from an app store and installed. They are available in the form of a URL. They don't require permission to be made available for users.
Load Faster
PWAs are equipped with service workers that cache the information in the pages visited by first-time users. This enables PWAs to load the information quickly on the next visit of the users and prevent crashes during peak traffic times.
Consume Less Device Storage Space
Since PWAs don't need to be installed on devices they don't occupy the storage space of the device they are being installed on. This prevents the device from heating up or slowing down due to excessive storage space consumption.
Inbuilt Security
It is mandatory to run PWAs on HTTPS. This prevents the information exchanged between a user and their server from being tampered with. With PWAs, users do not have to worry about the security of their sensitive information like contact and other personal details, payment details, etc.
Work In Offline Mode
The information that PWAs cache from a user's first visit can be accessed offline as well. This helps to improve the user experience, engagement, and retention rate of PWAs.
Cons
Excessive Battery Power Consumption In Mobile Devices
The technologies that PWAs run on are not compatible with mobile devices. Also, PWAs are written in complex, high-level codes which mobile devices have to work extra hard to interpret. This means excessive battery power usage for mobile devices to run PWAs.
Not Available On App Stores
Since PWAs work like websites, they cannot be made available on app stores like native apps. Extra marketing effort is required to ensure good visibility for PWAs.
Limited Features
PWAs cannot perform the functions that native apps can, like making audio and video calls, placing orders, making payments, etc. And even though PWAs can be accessed on mobile devices, they don't have access to the built-in features of the devices, like phone, text messages, Bluetooth, contacts, calendar, camera, location, etc.
Native Apps
Native apps are developed specifically for mobile devices and are stored on their home screens in the form of icons. They are designed to run on Android or iOS.
Pros
Can Be Monetized
Unlike PWAs, some native apps can be made available for a price. Users can purchase or subscribe to the apps.
Provide Access To Other Apps And Phone Features
Native apps are equipped with features like food ordering, shopping, making payments, social networking, entertainment, games, online search, sending emails, etc. They can also be linked to other apps on a device like payment wallets, and the device's inbuilt features.
Easily Discoverable
Every OS has an app store inbuilt on mobile devices where native apps are launched. Native apps need to be promoted for visibility too but are easier to find. Users can simply open the app store to search for an app.
Cons
Expensive To Develop And Maintain
Two different teams are required to develop and maintain a native app respectively. It has to be built separately for different operating systems. Maintaining native apps is a long-term process – they need to be constantly checked for bugs and crashes and need to be updated to keep up with the latest trends and technologies to ensure user satisfaction.
Need Approval To Be Launched
Native apps can't be made available for the public immediately after they're designed. The next step is to get them approved by the app store on which they are being launched. This is a long process that takes a few weeks to months. Some apps can get rejected due to copyright issues or plagiarism.
Download And Installation Is Time-Consuming
Users must install native apps from app stores in order to use them. This takes time as they have to search for the apps, download them, and then install them.
Prone To Crashes
Native apps are susceptible to frequent crashes. They can crash if developers don't check for bugs frequently, or if users have too many apps installed on their device or running in the background.
Security Measures Need To Be Manually Built In
Native apps don't have inbuilt security measures like PWAs. Security measures like multifactor authentication need to be built into native apps manually.
We combine the latest technologies with your ideas to develop apps that fit every device and business need.
Visit https://www.revalsys.com/services/application-development.html or contact us at https://www.revalsys.com/contact-us to know more.