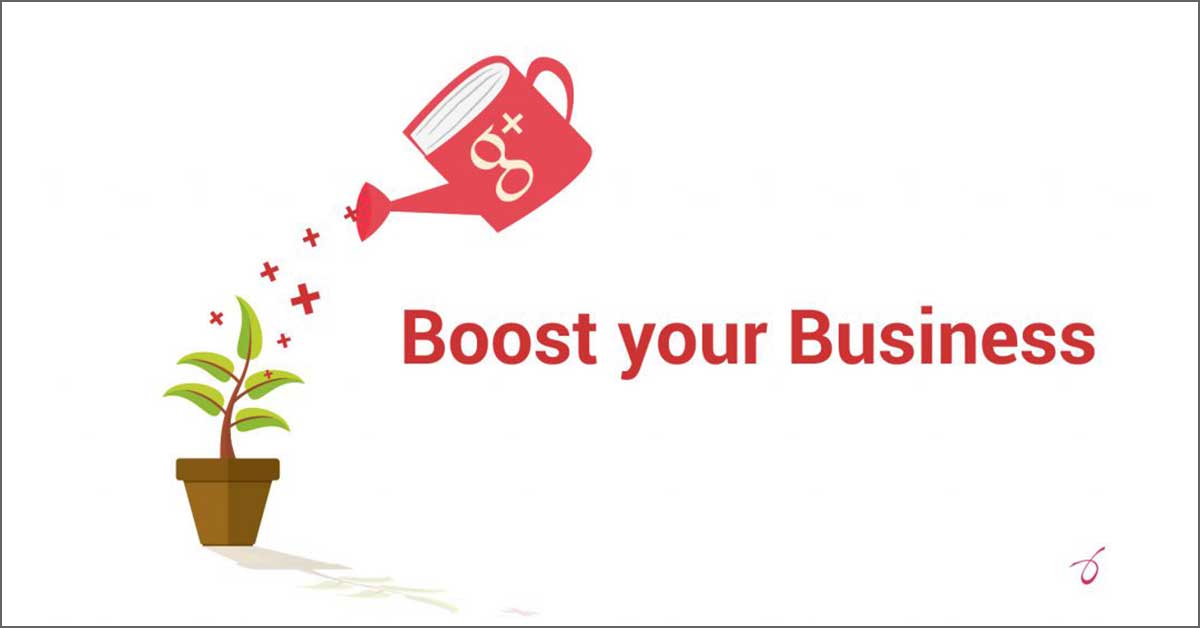 In this era of digitalization, having an active online presence is very necessary to make your business flourish. Social media channels are such digital platforms when used effectively you can take your business to another level. Most business are enjoying lots of benefits using these channels. However among them Google+ has continued its growth market reaching 100 million users faster than other social media channels like Facebook and Twitter. Hence Google+ has turned out to be a necessary platform for businesses to expand.
Here are some of the qualities of Google+ that help you in making your business grow when used effectively:
Improves

SEO

: The prime leader of search engines, Google indexes its social network in its search result. You can finely tune your Google+ business page which will help your website to get better ranking on search results. You can add links to the "About Us" section of Google+ business page which will help you in getting the most out of it.
Can get you lots of traffic: Putting the social sharing button of Google+ on your website and blog makes better the chance of getting lots of traffic. +1 button is the Google version of "Like" button which can be incorporated easily to your website and blog, and help your content get shared. Doing such will make your content to generate more shares and followers.
Help you target your potential customers: Utilizing the apps offered by Google+ lets you target your potential audience. With the help of such utilities, you can even turn a simple post into a Web Banner AD. It's an easy way to find and connect with people you like. You can have valuable discussion with different circles on some specific topics related to your business.
Easy to reach you: Having a Google+ business account will let your customers find you easily on all the platforms offered by Google. A basic search on search engine will also make your customers get connected with you.
Improves your presence: Using Google+, you can make your business have a strong presence. With features such as Google Maps and Local Business Page, you can make other Google+ users aware of your business and let them know where you're located. And when you have any promotional event, you can use Google+ Events and create calendar reminders. Your connections will get reminder regarding the event so that they don't miss the event. These wonderful features help in making your online presence even better.
Extend the life of your content: The life of your content can be extended by just embedding the content you have created within Google+ to your blog. Embedded Post is a wonderful feature of Google+ that allows the users to share Google+ posts on your blog. And as the embedded content is linked directly to Google+, when a user log in to Google+ and read your content, and the comment, likes and shares it receive will show on both your Google+ and your blog.
* * *
Have questions? You can drop us a few lines at: info@revalsys.com
For more information, you can reach us at: www.revalsys.com.
With 10 years of proven excellence, Revalsys Technologies is a platform that offers end-to-end IT services and digital solutions. Be it Website Designing, Website Development, Application Development, Product Engineering, Business Process Consulting, Digital Marketing Services like SEO, SMO, PPC etc., Cloud Infrastructure, Hosting Services, Mobility, Database Design and Development, Database Administration, Design Studio, Microsoft Technologies, Java Open Source Development, Mobility Services, Front-end Technologies and Network Engineering, we offer various technological solutions.
Our services include RevaleBiz, RevalCRM, RevalHRMS, RevalINTRA, RevalCMS (Reval Content Management System) and E-commerce Marketplace Solutions. From the inception of the project to review and beyond, you'll remain informed and empowered. We don't just provide customer satisfaction, we provide delight.
We are here to help you by becoming your technology partner!