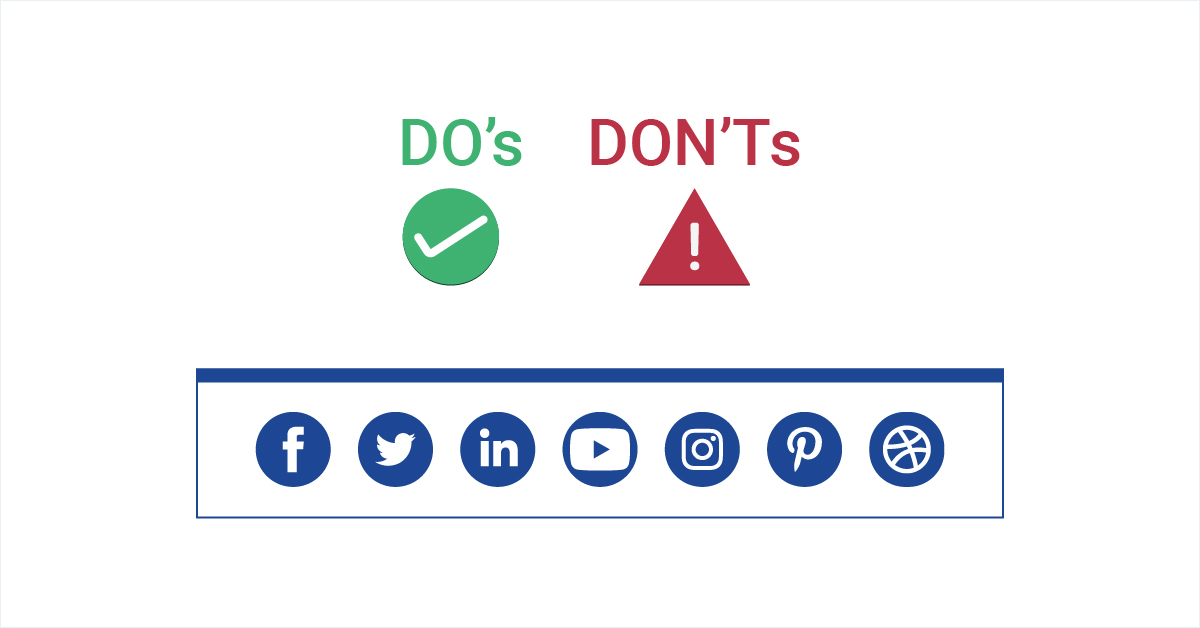 In today's world, social media has become a key part of event promotion. You can spread information, generate engagement, boost the attendance of event and encourage networking using Social Media. It's the most effective and fastest way of event promotion.
Strategic handling and deployment of Social media is essential or else it can be counter-productive. The wealth of information, photos and sound bytes that you have after the event can be analysed to make your next event promotion on social media even better.
Here are a few tips to help you avoid mistakes while using social media for event promotion.
Do Choose Social Media Channels and Content Carefully

From creating a buzz to building immersive experiences for attendees, social media platforms have been useful to the event planners in a number of ways. However, not all social media platforms serve the same purpose. Facebook is about awareness and engagement; LinkedIn caters to professional development; Twitter is all about conversation and reactions. So, if you post the same content, the chance of falling short in the campaign is higher.
Don't Forget About Your Audience

Yes, social media is a platform that offers you a wide audience. No doubt, you want more people to know about the event. Promoting the event through social media campaign with solely this thinking may prove wrong. Based on your goal, your social media campaign should be a targeted one. Sponsoring content to untargeted audiences not only clutter the feeds but is also a drain on the limited resources. Targeting your audience by gender, age and demographic and keeping track of social analytics based on the past events is helpful.
Do Invest in Paid Social Media Advertising

People are now used to see advts on their news feeds and now with the advertising standards becoming higher, people appreciate the advts that are relevant and well-designed. A social media advt is effective only when it's upfront, visually appealing and have a clear take away.
Don't Stop Engaging

As social media is a platform for conversations, you should keep your audience engaged with relevant content. Whatever social media platform you choose, you should carve out a strong engaging strategy so that your audience remains engaged and that makes them more excited to know about your event.
Do Create Unique Hashtag

Coming up with a unique, short and easy-to-understand hashtag for the event is a great way to spread awareness before the event and engage the target audience during and post the event. However, you should be consistent while using the hashtag. You can even hold a contest or quiz that makes use of your event hashtag. The more target audience use the hashtag, the better is the chance of more people interacting and seeing your event hashtag. You can encourage your attendees to use the hashtag before and during the event.
Don't Abandon Your Pages

From the inception of event planning to during and after the event, you shouldn't neglect updates. A social media page that is forgotten can worsen things. So, commit to posting updates, engage in conversation and answer questions regularly.
 * * *
Have questions? You can drop us a few lines at: info@revalsys.com
For more information, you can reach us at: www.revalsys.com.
With 10 years of proven excellence, Revalsys Technologies is a platform that offers end-to-end IT services and digital solutions. Be it Website Designing, Website Development, Application Development, Product Engineering, Business Process Consulting, Digital Marketing Services like SEO, SMO, PPC etc., Cloud Infrastructure, Hosting Services, Mobility, Database Design and Development, Database Administration, Design Studio, Microsoft Technologies, Java Open Source Development, Mobility Services, Front-end Technologies and Network Engineering, we offer various technological solutions.
Our services include RevaleBiz, RevalCRM, RevalHRMS, RevalINTRA, RevalCMS (Reval Content Management System) and E-commerce Marketplace Solutions. From the inception of the project to review and beyond, you'll remain informed and empowered. We don't just provide customer satisfaction, we provide delight.
We are here to help you by becoming your technology partner!